Nepal, best known for the Himalayas and its cultural diversity, is an attractive destination for travel and tourism.
Moreover, visitors traveling to Nepal also include trying out various Nepali cuisine as a truly memorable and unique experience.
The unique food of Nepal reflects the wide variety of cultures and traditions of Nepali people. Nepali people use local herbs and spices to make the food highly nutritious, healthy, and flavorsome.
Following is the list of some of the most delicious and must try food during your stay in Nepal –
1. Dal Bhat Tarkari (Rice & Lentil Soup)
Dal Bhat Tarkari is the staple meal of Nepali people. Although rice with lentil soup and curry is the go to meal in South Asia – the taste of authentic Nepali 'Dal Bhat' is quite unique.
A plate of Dal Bhat Tarkari (Thali set) served in the restaurants consists of Bhat (steamed/boiled rice), Dal (lentil soup), Tarkari (mix of available seasonal vegetables), Dahi (yogurt), and curries made up of either chicken, goat or fish. Herbs such as coriander, turmeric, cumin, garlic, onion, ginger, tamarind, chili, and garam masala are used to cool dal bhat tarkari.
"Dal Bhat Power 24 Hour", quite a popular quote among many tourists who visit Nepal every year. The dish gives you all the energy you will need to stay active whole day and, to go through the exciting trekking trails to reach your destination point throughout your day. It is the primary source of energy in homes of most of the Nepalese family which is packed with wholesomeness of nutrients and energy to sustain you whole day.
Normal Price: NPR 350 to NPR 500
Best Place: Muktinath Thakali Kitchen, Thamel
2. Momo (Dumplings)
Momo are steamed dumpling with variation of fillings inside. It is native to the Southwest Chinese region of Tibet, Nepal, Bhutan, and parts of India. The exact origins are still unclear, but the name 'Momo' points to Northern China.
The dough for momo is rolled into circular flat pieces, and the filling is enclosed either completely or in a half-moon shape. The fillings can be vegetables, chicken, pork, goat, paneer (fresh cheese) or buffalo meat. Buffalo Momos are the most popular amongst the Nepali people.
More importantly, the Momo sauce is what makes Momo taste amazing. Momo Achaar (similar to sauce) is prepared by creating a puree of tomatoes and a wide variety of aromatic spices. The recipe of achaar varies from one momo spot to another – thats why Nepali people are always on the lookout for the next best momo spot.
Normal Price: Price ranges from NPR 150 to NPR 200
Best Place: Momo Hut in Thamel or Shandar Momo, Baneshowr or literally any momo shop with hot steamy momos.
3. B. K.'s Fries
It is known to be the McDonald's of Nepal served at Cafe B.K.'s Place located at Thamel Road, Kathmandu, famous for serving fast food. It is also special because of the vegetarian-friendly nature, and the vegan options are also available. French fries, chicken items, spring rolls, and hot chips are the center of attraction for the new ones.
Place: B.K.'s Place, Thamel
Price: NPR 240- NPR 300
Location: B.K.'s Place
4. Wo or Bara
Bara is a traditional Newari food that is cooked on a hot pan using blended lentil (beans). It is basically a lentil pancake and commonly used for 'Sagun' (to wish Good Luck) in the Newari culture.
It is important to note that Bara is a natively a vegetarian dish. However, it can also be cooked mixed with egg and meat, which are called Anda-Bara and Masu-Bara, respectively.
Normal Price: NPR 150 to NPR 180 per plate
Best Place: Bhumi Restaurant & Bar, Jhamsikhel, Lalitpur
5. Sel Roti
Sel Roti is an iconic symbol of Nepali culture and festivities and traditionally a celebratory food mostly prepared during religious festivals like Dasain and Tihar.
It is prepared by mixing rice flour with milk, sugar, water, ghee, cardamom, and other ingredients. The ingredients are mixed properly, and once the semi-liquid dough is ready, it is deep-fried in boiling oil or ghee until reddish-brown.
Normal Price: NPR 20 per piece
Best place: Most people visit a small fried-food snack stall in Old Patan, opposite of Image Ark Gallery.
6. Samosa
Samosa is a fried or baked pastry with a savory filling. Samosa's shape varies from one region to another. It can come in varied shapes – triangular, cone, or half-moon shapes. Samosas in Nepal are mostly triangular.
The samosa originated in the Middle East and Central Asia and later spread to Africa, Southeast Asia, and South Asia. It is golden-brown in color and best served hot with ketchup or pickle.
Normal Price: NPR 30 per piece
Best Place: Tip Top sweets, New road, Kathmandu
7. Chili Chicken or Chicken Chiily
One of the most desired and loved fast food is the chicken chilly, which is easy to prepare and less time consuming. It is an appetizer item included in almost every restaurant in Kathmandu.
It is an Indo-Chinese dish of chicken of Hakka Chinese heritage. The main ingredients are chicken, ginger and garlic paste, lemon juice, onion, and hot chili.
Normal Price: NPR 250 to NPR 400 per plate
Best Place: Chicken Station, Kathmandu
8. Everest Beer
Everest Beer was first introduced in 2003 to honor the 50th Golden Jubilee celebration of Mt. Everest's historic conquest on 29 May 1953. It is considered as one of the best Nepali beers available in the market.
Everest beer has a European Pale ale brewing style and is brewed by Mount Everest Brewery in Kathmandu. It exported to Japan and the United Kingdom because of its good quality.
Normal Price: NPR 285 for a 650 ML can/bottle
Where can I find me some Everest Beer? Almost every bar or a restaurant in Kathmandu. Don't be surprised if you see them during the treks as well.
Tuborg and Gorkha beer are alternatives to the Everest Beer. Also – Nepali beers have higher alcohol percentage compared to the western beers.
9. Yomari
Yomari is a steamed dumpling with sweet fillings such as chaku and khuwa and has an external covering of rice flour.
It is believe to have originated in the Kathmandu Valley. The festival of Yomari Punhi is celebrated by cooking and eating Yomari.
Normal Price: NPR 35 – NPR 50 per piece
Best Place: Newa Lahana, Kirtipur
10. Dhindho (Dhido)
It is a staple meal in various parts of Nepal, especially in Himalayan regions, which is generally prepared by slowly adding flour to boiling water while stirring. The main ingredients used are water, salt, white flour, buckwheat, vegetables, etc. with water and flour mixture in three to one ratio. It is eaten by making balls and dipping into liquid (soups), and swallowing directly without chewing.
Normal Price: NPR 250 – NPR 400 per Thali set
Best Place: Thakali Bhanchha Ghar, Thamel
11. Gundruk
Gundruk is a fermented leafy green vegetable, and popular food in Nepal claimed to be a national food. It originates from the upper hilly regions of Nepal with an altitude of over 2500 meters. It is made by drying several leafy vegetables such as mustard leaves and cauliflower to produce a sour taste.
Normal Price: NPR 100 per packet (uncooked) – or you can usually get it in your Nepali Dal Bhat set
Best Place: Thakali Bhanchha Ghar, Thamel
12. Lassi
Lassi is a popular traditional drink originated from Punjab in India. It is a blend of yogurt, water, spices, and sometimes fruit. Namkeen Lassi is similar to 'doogh,' while sweet and mango lassis are like milkshakes.
Lassi comes in all kinds of flavors. Some are sweet, some have mint, and some have fruit. Apart from these varieties, lassi is prepared in different flavors to entice the taste bud.
Normal Price: NPR 40 per glass
Best Place: Sangam Sweets, Kathmandu
13. Ranjana Soda
Ranjana Soda is a set of carbonated water most loved by Nepalese. It is made and bottled in an old-fashioned way, i.e., with hand-operated machines and old-fashioned bottles.
Ranjana Soda in new road has been serving its customers since the early sixties. Moreover you can choose flavors such as lemon, mango, lichi, orange, cola, and so on for your soda.
Normal Price: NPR 40 – NPR 50 per glass of serving
Place: Ranjana Soda, Ranjana Galli, New Road
14. Mutton (Gorkhali Lamb)
Lamb is a highly desired meat in Nepal. People celebrate festivals and occasions with varieties of lamb meat. Gorkhali Lamb is normally made with lamb chops cooked on a charcoal grill and then cooked in a chili sauce.
It is best enjoyed with rice or roti. It tastes best when the country is experiencing freezing weather. Cooking goat meat is very common during Dashain festival, or during special occasions.
Normal Price: NPR 250 – NPR 280 per plate/dish
Best Place: Nepali Chulo Authentic Restaurant and Banquet
15. Juju Dhau
Juju Dhau is popularly known as the king of yogurt with creamy rich and sweet taste. Newari people prepare it by boiling buffalo milk in a clay pot.
Bhaktapur serves the best Juju Dhaus in the entirety of Kathmandu – and it is one of the must try food during your travel in Bhaktapur.
Normal Price: NPR 100 per cup
Best Place: Bhaktapur Juju Dhau Center , Bhaktapur.
16. Chatamari
Chatamari is also known as Rice Pancake and Nepali Pizza and is one of the special dishes of the Newar Community.
It is served as an appetizer in most of the restaurants of Kathmandu. The main ingredient is the rice flour batter mixed with water in which eggs, sugar, etc. can be placed as the alternative toppings.
Normal Price: NPR 90 – NPR 200 per piece
Best Place: Chatamari Chen, Aatkonarayansthan
17. Thukpa
Thukpa is a Tibetan noodle soup, which originated in the eastern part of Tibet. Amdo thukpa is a famous variant among the Nepalese Tibetans and Himalayans. The dish is also consumed in some parts of India and Bhutan.
Unlike other South Asian variations – Nepali Thukpa has its own unique taste and includes ingredients such as chili powder, masala (usually garam masala), which makes it hot and spicy with a dominant Nepali curry flavor.
Normal Price: NPR 200 per bowl
Best Place: Everest Fast Food Café, Bishalnagar.
18. Samay Baji
Samaj Baji is an authentic traditional dish of the Newar community, also commonly known as Newari Set – consisting of several components (beaten rice, bara, spicy potato salad, bhatmas, meat, etc.).
It is served at Newari festivals and celebrations as offerings to the god for good luck, wealth, and health.
Normal Price: NPR 100 – NPR 250 per plate
Best Place: Newa Lahana, Kirtipur.
19. Choila
Choila is a spicy, hot, and mouthwatering Newari dish that is made of spiced grilled buffalo meat.
Although the dish is traditionally made up of water buffalo meat, it can also be made with mutton, chicken, duck meat, and mushroom. Choila is usually eaten with rice flakes (beaten rice) to tone down the strong spicy taste.
Normal Price: NPR 400 per plate
Best Place: Le Mirch, Pulchowk.
20. Tongba
Tongba is a millet-based alcoholic beverage available in Nepal's eastern mountainous region.
It is mostly used during the winter season to avoid the winter cold and to maintain a warm body temperature. Limbhuwan of eastern Nepal is supposed to be its origin. The main ingredients are millet, yeast, and water.
Hile (Dankuta) and Taplejung are the ultimate destinations for drinking tongba.
Normal Price: NPR 300 – NPR 500 per serving
Best Place: Pilgrims 24 Restaurant & Bar, Thamel Area.
21. Chicken Biryani
Chicken Biryani is a mixed dish of rice with chicken and cooked slowly in big pots to preserve the flavors of the spices. It is made with rice, meat, eggs.
The main ingredients to make chicken Biryani are vegetables, rice, meat, spices, yogurt, garlic, egg, mint, and other mixture according to the taste of persons. It is originated from India and mostly found in the Indian subcontinent, Southeast Asia and Southern Africa.
Normal Price: NPR 250 – NPR 280 per plate
Best Place: Haadi biryani, Dillibazar, Kathmandu
22. Pulao (Pilaf)
Pulao is a well-known dish in Nepal, mostly served as a substitute for rice at parties.
It is also served as a side dish with grilled meat, stews, etc. However, as with any traditional dish, there are numerous variations. It is possible to find it with different types of meat and vegetables served as the main course. It is believed that it originated from Iran between 1,000 and 500 BC.
Normal Price: NPR 300 per plate
Best Place: Mughal Empire, Lazimpat
23. Alu Tama (Aloo Tama)
Alu-Tama is translated from potato and Tama soup and is another delicious Newari dish.
Tama is made from bamboo shoots. Bodi is a type of bean, also another ingredient that is used to make tama. Garlic, tomatoes, and lemons are also used to make Tama soup.
Alu tama is usually spicy and full of aromatic flavors. It might come in a soup or dry variation.
Normal Price: NPR 150 per plate
Best Place: Bhojan Griha, Dillibazar
24. Kwati (Soup)
Kwati is the mixed soup of nine types of beans. It is the traditional food of the Newari community.
The main ingredients of Kwati are soybean, chickpea, Mung bean, rice bean, and Black-eyed pea. There is an entire festival dedicated to eating the Kwati soup – the festival of Janai Purnima.
Normal Price: NPR 180 per bowl
Best Place: Newa Lahana, Kirtipur
25. Tandoori Chicken
Tandoori chicken is a famous delicacy enjoyed by people in Nepal, India, and all over the world. Its special because of the way it is cooked. It is cooked in a cylindrical clay oven (tandoor) and stovetop after marinating with the spices and yogurt.
This dish was created by Kundan Lal Gurjal and originated in the Indian sub-continent. The price of this dish differs according to the restaurant in Nepal.
Normal Price: NPR 500 to NPR 700 per serving
Best Place: Kantipur Tandoori House of Brahakumari Marga,Thamel, Kathmandu
26. Sizzler
Chicken Sizzler is a well-known dish in Nepal, especially served at fast-food restaurants in Kathmandu.
The sizzler is served with a rich smoky essence attributed to the iron plate, which keeps the chicken hot for long. It contains grilled vegetables and a serving of stir fried noodles to go with it.
Normal Price: NPR 600 per dish
Best Place: Bricks Café, Thapathali, Kathmandu.
27. Sekuwa (Roasted Meat)
Sekuwa is meat roasted in a wood fire in the traditional Nepali style.
Cooking Sekuwa involves marinating raw meat with herbs and spices and skewing the meat and cooking it slowly on wood fire. It can be made of any meat like pork, chicken, goat, or a mixture. It is trendy in Dharan and Kathmandu. Dharan and Tarahara are also known as the Sekuwa capitals of Nepal.
Normal Price: NPR 300 to NPR 450 per plate
Best Place: Bajeko Sekuwa, Kathmandu
28. Sukuti (Dried Meat)
Sukuti is a dried meat product originating from Nepal, Tibet and the mountain regions of India.
It is usually made from buffalo, sometimes from lamb or goat, and is famous among Limbu and Gurung people. The dried meat is cut into thin slices and marinated in turmeric, black pepper, coriander, chilly, ginger, garlic, and onion paste.
Normal Price: NPR 150 – NPR 200 per plate
Best Place: Maharjan Khaja Ghar, Pimbahal Pond, Patan
29. Sapu Mhicha (Bone Marrow)
Sapu Mhicha is prepared during special occasions of Newar Community and is an exceptional Newari cuisine. Buffalo leaf tripe stuffed with bone marrow is boiled and fried and is served after the main course and before dessert.
Normal Price: NPR 200 per plate
Best Place: Nandini Food Court , Swotha Rd, Lalitpur
30. Shyakpa (Sherpa Stew)
Sherpa Stew, also known as 'Shyakpa,' is made from vegetables and meat.
Ingredients of the stew change according to the change in seasonal vegetables, and available vegetables and meat are stir-fried with cumin, coriander, onion, ginger and garlic, and flat noodles added to give a fuller body and is simmered after water is added to the mixture. Different households have their own version of Shyakpa. It is originated from the Himalayan region of Nepal.
Shyakpa is easy to cook, full of nutrients and helps keep the body warm – which is very important in the colder regions of Nepal.
Best place: Oxygen Altitude Restaurant and Home, Khumjung, Lobuche, Solumkhumbu
31. New Dish's Spring Roll
Ask a local where is the best Spring Roll in Kathmandu and most likely they'll say New Dish in Kichapokhari.
The food joint is jam packed during peak lunch hours, so we recommend you to visit during non lunch hours (odd hours).
Moreover – if you're already in New Dish – we highly recommend getting their Pork Momo to go along with the Spring Rolls.
32. Masala Tea
Tea or masala tea is something that a Nepali person needs to have at least 2 – 3 times a day. Once in the morning and once in the afternoon – and few more times throughout the day depending on the weather or the type of conversation.
Tea is usually made by boiling aromatic tea leaves in hot water and then adding ingredients such as sugar and milk powder. However, the tea from the local street vendors are made in a different way and much more richer in texture. The vendor usually boils milk first, then adds some water and then boils it together with the tea leaves and sugar.
There are many variation of tea – and the best conversations in Nepal is usually accompanied by a cup of warm tea.
33. Carrot Cake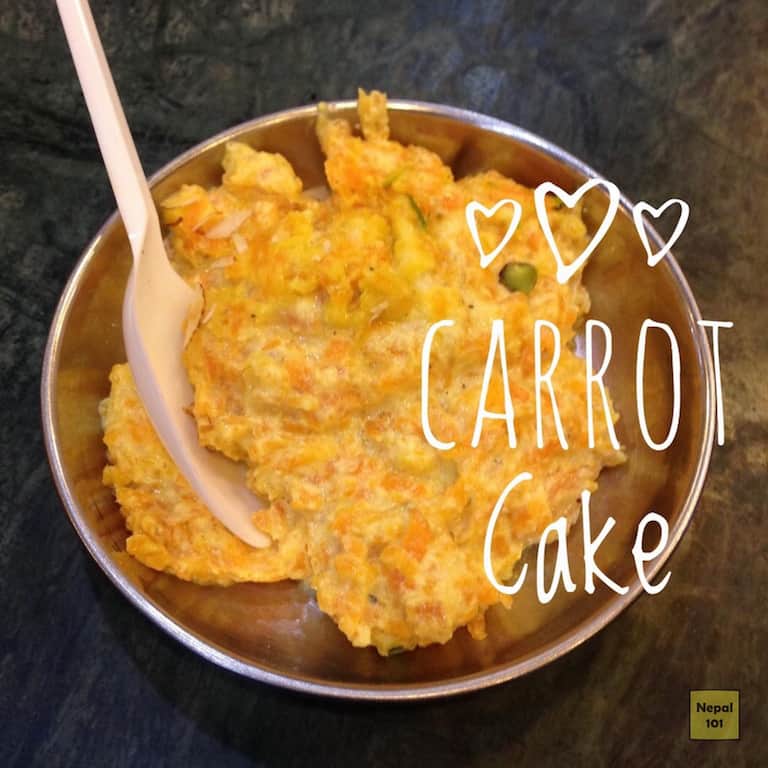 Carrot cake is a special dessert with Indian origins and hugely popular amongst Nepali people in the city areas.
It is prepared by slowly cooking carrot in milk with Ghee (saturated butter) with sugar. Most of the dessert shops in the city areas serve carrot cake but the best ones are in new road, Kathmandu.
34. Furandana
Furandana is a Nepali snack that is usually eaten with achar, vegetables and curries. It is similar to Cheura (flat beaten rice), but crispier and has a fried texture.
Furandana is usually eaten during afternoon or as a snack – especially during the biggest festivals of the year such as Dashain and Tihar.
35. Chicken Chowmein
Nepali Chicken Chowmein is another local favorite delicacy. Almost every restaurant serves this dish. It is similar to fried wok noodles.
It is cooked with stir fried veggies such as cabbage, carrot, long beans, onions etc.
When Nepali people had their fill of Momo, Dal Bhat or Noodle Soup – then they turn to chowmein.
So there you have it. If you've conquered all the food listed above – then you have truly indeed traveled Nepal. If not – there's always another time to head back and finish off the task.
Photo credits (with approval to share) –
Kalpu's Kitchen (Instagram)