Getting a Nepal Tourist Visa is both easy and cheap.
There are two main ways to get Nepal Visa –
During peak season, the immigration in the Tribhuvan International Airport gets busy with many travelers. We recommend you fill up and print the Online Application 15 days prior to your arrival to get a Visa on arrival quickly.
Nepal Visa Fee
Following are the most recent Visa On Arrival Fees
Nepal Visa Fee 15 Days – $30
Nepal Visa Fee 30 Days – $50
Nepal Visa Fee 90 Days – $150
*We recommend you to carry Cash equivalent of the Visa Fee – so that you minimize the chances of further delay in case the ATM machine is not available or non-functional.
Nepal Visa on Arrival – Tourist Visa
Nepal Visa on Arrival is available at the following points of entry –
Tribhuvan International Airport – Kathmandu
Birganj – Nepal/India border
Bheemdatta – Nepal/India border
Dhangadhi – Nepal/India border
Nepalgunj – Nepal/India border
Kakarbhitta – Nepal/India border
Kodari – Nepal/China border (Zhangmu Port, for cargo transaction only)
Siddharthanagar – Nepal/India border
Majority of the travelers wanting to travel or trek in Nepal come through the Tribhuvan International Airport, Kathmandu and get their Visa on Arrival at the Airport.
Following are the procedures to get your Tourist Visa on arrival –
Make sure your Arrival Card is filled up and has all the necessary information
Fill the Online Tourist Visa Application Form – this can be either done 15 days prior to your arrival to Nepal or at the Airport. *We recommend filling up this form, printing it and bringing it with you prior to arrival to get your Nepal Visa.
Make payment at the Visa Payment Counter according to your Travel Stay Length (15 days, 30 days or 90 days)
Head to the Immigration Officer's Desk/Counter with your 1) Arrival Card, 2) Online Tourist Visa Application Form, 3) Visa Payment Receipt with your 4) Passport and the Immigration Officer will issue you a Visa
* Please carry a few 2 x 2 inch most recent photos of yourself. These always come in handy.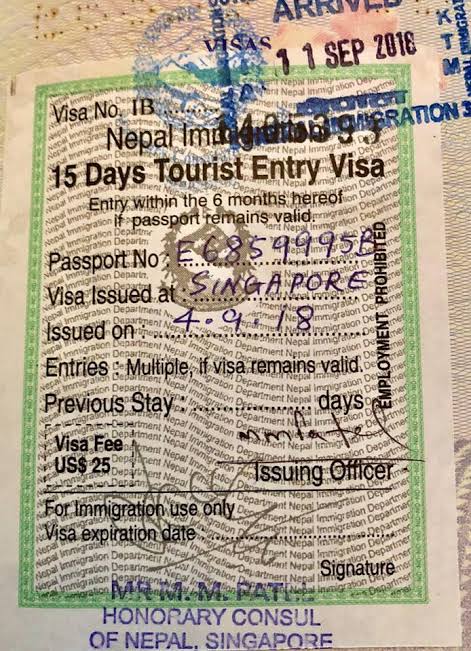 An Example Nepal Tourist Visa 15 Days (Source: Wikipedia)
Nepal Visa Online Application Form
The Nepal Visa Online Application Form can be found at –http://online.nepalimmigration.gov.np/tourist-visa
You will be prompted to prepare the following information before you start entering the information online –
Things to prepare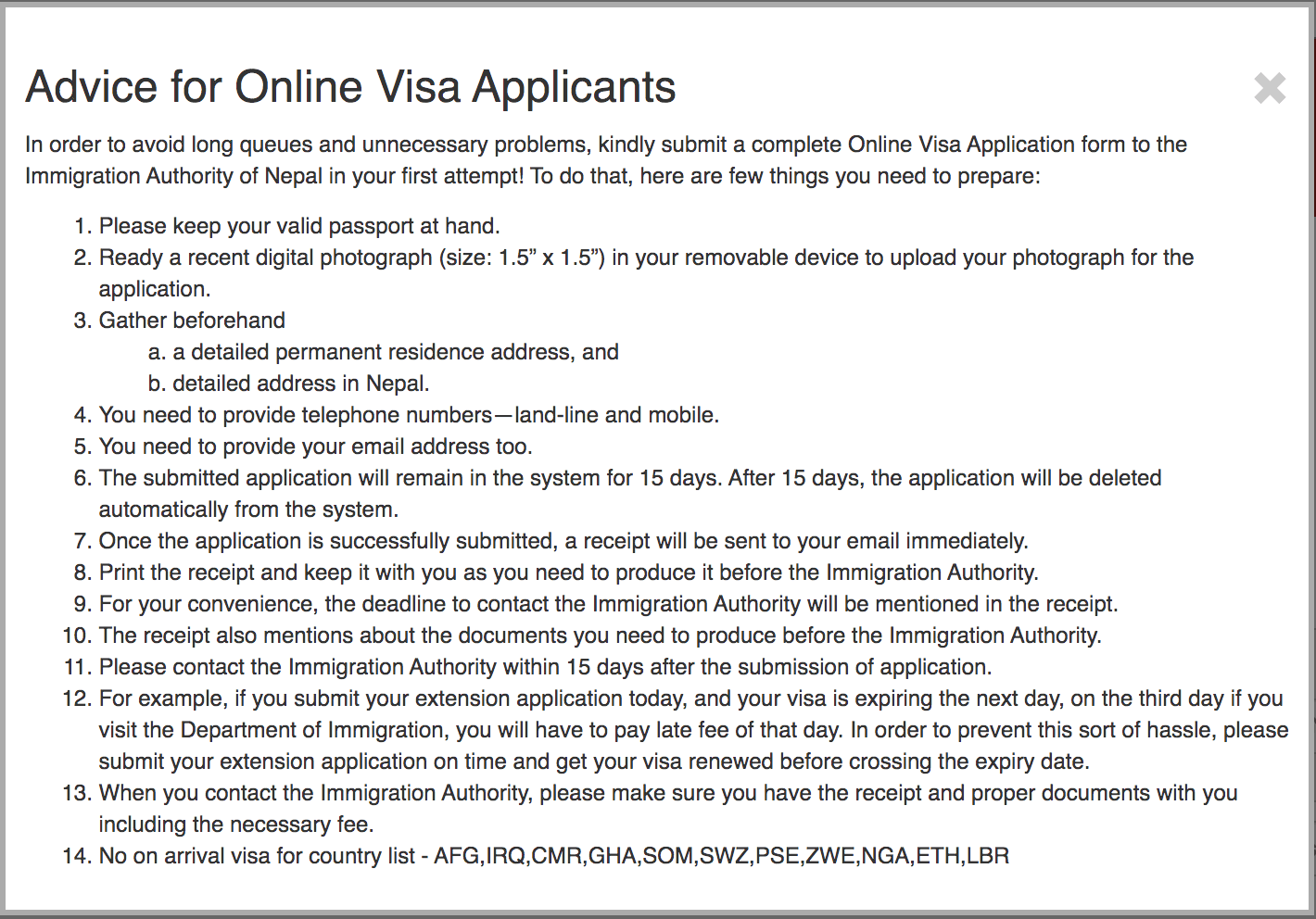 Fill up the online form
You will have to fill up the information in the following screen –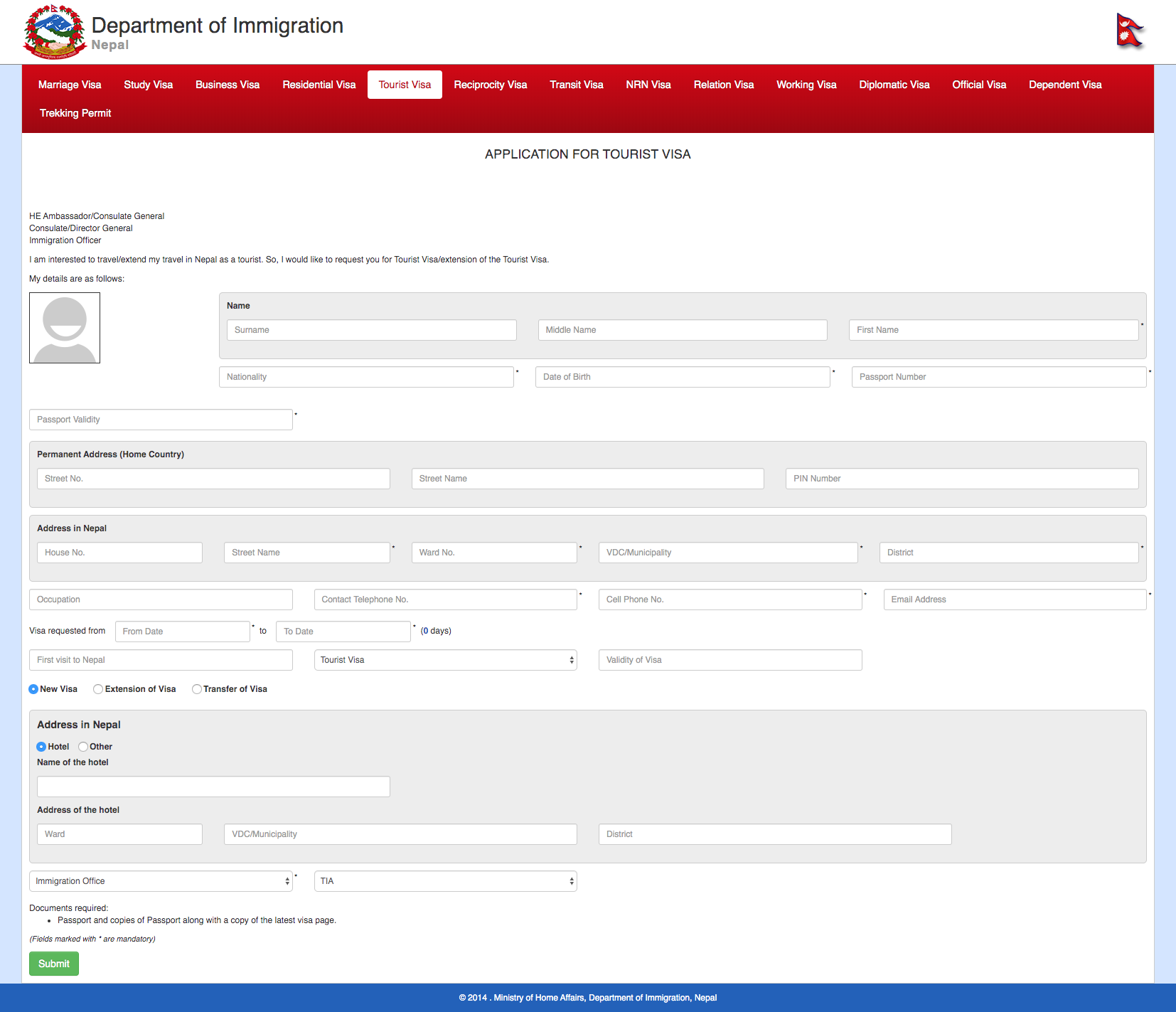 Online Application Confirmation
Once the Application is filled and completely submitted – you will receive a confirmation document to print. This is the exact same process if you were to fill up the application in the Kiosk at Tribhuvan International Airport. Please print this document to save time at the Immigration in Nepal.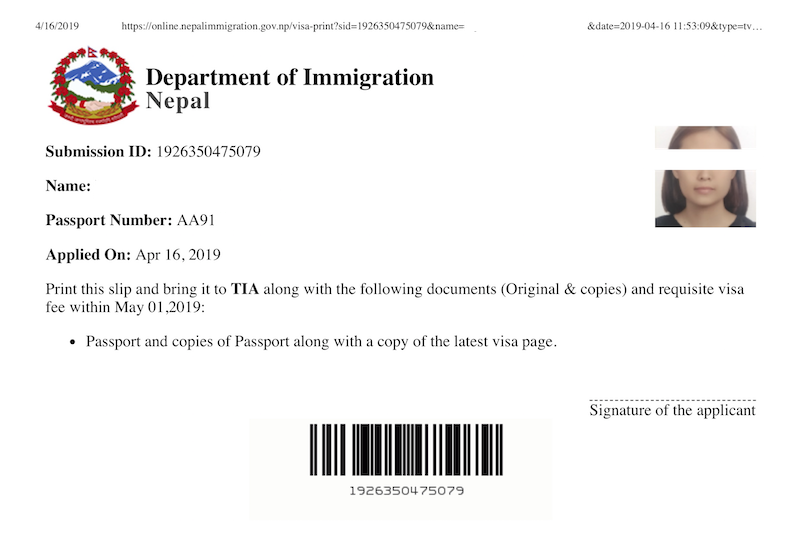 Nepal Visa: Applying at the Embassy
An alternative to an On Arrival Nepal Visa is to get it at the Embassy prior to your trip.
* All non-Nepali nationals, including children, require a visa to enter Nepal.
If applying at the Nepali Embassy, Nepal Visa Applicants do not necessarily need to submit the application in person and can be submitted by their respective representatives (Family, Friends or Travel Agents etc).
If Applying at the consulate/embassy, following are the requirements for obtaining Nepal Visa:
A passport and a copy of the passport with a minimum validity of 6 Months (180 Days). Your valid passport must also contain at least one blank visa page in it.
One recent photograph: 1 passport size (2×2 Inches) colored photograph with white background must be glued on the right-hand side of each application.
The visa application form can be obtained at the Embassy or can be downloaded at your Nepali Embassy's website and it should be completely filled out in English. Both handwritten or types applications are accepted.
Countries that require Nepal Visa prior to arrival
The following countries require a Nepal Visa prior to arrival. Visa On Arrival services for the following countries are currently not supported by the Nepal Immigration Office and the Government:
Afghanistan
Cameroon
Eswatini (Swaziland)
Ethiopia
Ghana
Iraq
Liberia
Nigeria
Palestine
Somalia
Suria
Zimbabwe
Furthermore, the Nepal Immigration Office has provided a further category of travelers that require a Nepal Visa prior to arrival –
Refugees with Authorized Travel Documents
Nepal Visa Validity and Duration of Stay
The validity of the tourist visa starts from the date shown on the visa sticker, not from the declared start of travel date mentioned on the application form. Once the visa is issued, the visa remains valid for 6 months. This means the holder of the visa should enter Nepal within 6 months from the date of issuance of the Visa; if not, the visa will expire.
A visa issued with Multiple Entry, however, means the length of time you have permission to remain in Nepal, which depends on the type of Tourist Visa you apply for. In short, applicant(s) on Multiple Entry Tourist Visa can travel to Nepal multiple times or stay in Nepal for up to 15 Days, 30 Days or 90 Days from the date of entry. Therefore, it is not necessary to apply for a new visa every time you travel to Nepal as long as the visa is valid for the entry.
Nepal Visa for Thai Citizens
Thai Citizens have the option of either getting a Nepal Visa in Bangkok prior to traveling to Nepal or getting a Visa on Arrival.
The requirements are the same as mentioned above for applying in the embassy with the following cost breakdown:
Nepal Visa Fee 15 Days – THB 1,000
Nepal Visa Fee 30 Days – THB 1,650
Nepal Visa Fee 90 Days – THB 4,150
The application to be filled for the Nepal Visa for Thai Citizens or travelers applying from Thailand can be found in the following link –
Nepal Visa for SAARC Citizens
Nationals of the SAARC countries except Afghanistan can receive a tourist visa free of charge for up to 30 days at no cost once in a given year. Afghanistan citizens have to either apply in advance or need an invitation from concerned institutions with the approval of the Department of Immigration.
Nepal Visa for Indian Citizens
Citizens of India DO NOT need a Nepal Visa because of the special relationship between Nepal and India. However, please make sure to carry either of the following documents with you throughout your stay in Nepal –
Valid Indian Passport
Voters ID with Photo
Any other Photo Identification such as registration certificate issued by the Indian Embassy